Hi Makers!
I am here today to share with a fun modification of my Gears quilt that I made using the newest Crayola licensed collection, Colors of Kindness. It is a wonderfully whimsical inspiring collection filled with inspiration sayings, darling graphics and bright and cheery colors. It's a collection full of the inspiration we all love when a box of any Crayola product is place in front of us even as adult as it brings back memories of when we were a child.
The Colors of Kindness includes three panels in the collection. I used two of the panels in the modified Gears Quilt.
I used the Kindness Cards panel to cut up and use as the center of the Gears blocks. I attempted two different methods of dissecting the the panel.
The first method, I used an 8.5-inch ruler and attempted to fussy cut a grouping of four kindness cards together to use as the center section of the block.
To quote Dan Fogelberg from the song, "Changing Horses", Changing horses in the middle of a stream get you wet... That's what happened to me. I just wasn't thrilled with the way it looked and felt as if to much fabric was being wasted and the blocks were not lining up as I wanted. Therefore, I decided to very carefully cut apart the individual kindness cards. The quilt is going to be used as a nap quilt for the almost two year old this fall at daycare and she's not particulate about there being two different centers to the blocks. She just like to snuggle with quilts (all the quilts, at the same time - LOL).
This was a tad tricky and took patience, but I think the finished blocks were well worth the extra time. I then used 1.5-inch strips to sew together the cards to create a 8.5-inch center for each block. A little window into kindness.
I made each block using the various Colors of Kindness Dots and the center block using Colors of Kindness Crayons.
The large Throw Kindness Around Like Confetti Panel with various colors of RBD basics became the back of the quilt. The remaining Dots became a scrappy and colorful binding.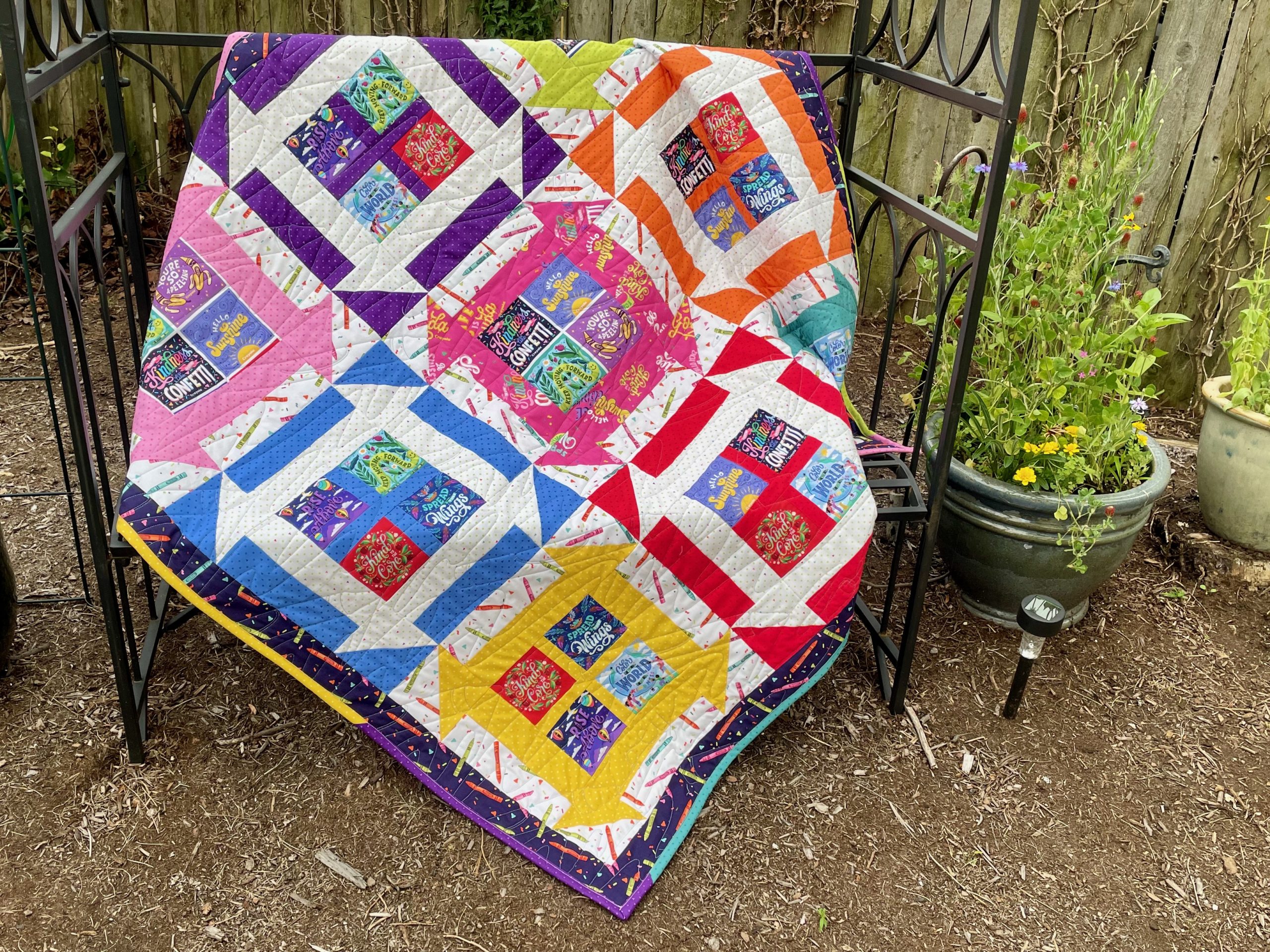 If you'd like to make your own version of the Colors of Kindness Gears quilt, pick up the collection from your favorite quilt shops and the Gears pattern from my Etsy Shop.
For more inspiration, follow me on instagram @neverlandstitches or on Pinterest.
Until next time…I hope you always find something around you that inspires your creativity…
Lisa Jo